Distance:

8km / 5 miles, allow 2.5-3hrs

Grade:

Strenuous with some steep climbs

Summary:

A refreshing walk with superb views of the castle and mountains
The Route
1. As for 1a to the picnic area, then turn left along lane. Continue past Gwyndy and small lake on left. Turn right by a derelict house, following the waymarked path up the hillside. Cross a track and continue ahead on a steep natural path through the forest, ascending steeply, following the dry stream bed.
2. At the forest edge cross a ladder stile onto open moorland. Follow a natural winding path, gradually bearing right across the moorland, following waymarkers. Cross a ladder stile and descend into the valley. Turn right at junction with a wider path. Bear right past a ruin. Cross another ladder stile/gate then bear left at waymarker and through a gate by a ruin. Bear right on the path down a long field to gate at the bottom. Follow the path downhill to a farmyard. Go through gates, then turn left in front of the farmhouse (Bertheos) and follow the path down to the road. Cross the main road and turn right. After a few metres, turn left over a stile and follow lane over bridge. Cross a stile on the left and follow a narrow natural path up the hillside. Turn left at a waymarker through a wet area (in winter) then follow the waymarkers across open country. Cross a stile and follow the path ahead. Go through a gate and turn right along the lane.
3. At farm buildings, where road bears left, turn right onto a track. Go through a gate and continue ahead over stile/gate. Where the track forks continue ahead rather than following the more major track left. Go through two more gates, and over a stile. Continue ahead on the clear path descending downhill towards the castle. Pass the castle ruins on the right and continue ahead to join a concrete path (ignore path signed right beyond castle). Go through gate and continue down track to reach A470. Turn left along the road and walk carefully back into Dolwyddelan.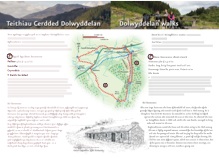 ---
Walking Advice
Brief route directions are given but it is essential that you also take an OS 1:25000 Explorer map, as few routes are fully waymarked. Routes that cross the moorland need particular care and good map-reading skills.
Please follow the country code and make sure you keep dogs under control, particularly near livestock.
Rough distances are given in the routes directions. As a guide allow 15 kilometers per kilometer walking at an easy pace on the flat but allow an extra ascent(roughly 1 minute per 10m of ascent). Overall timings for the walk are s are generous, allowing time for stops.
Equipment
Walks require walking shoes and warterproof clothing and always take food and water. Some routes through the forest and moor can be very boggy.
Please be aware that this booklet was made in early 2008 and many of the routes are in a working forest and paths may inevitably change. If you know of any changes that have taken place to these routes or would like to add any extra information regarding these routes please contact mentersiabod@directsave.net
Copies of the booklet are available to purchase from the Community Pavilion and Siop y Llan Dolwyddelan, The Eagles Penmachno, Shell Garage and Tourist Information Centre Betws-y-Coed. Please note that all funds raised are put back into footpath maintenance in Penmachno and Dolwyddelan. For more information contact mentersiabod@directsave.net
This post is also available in: Welsh