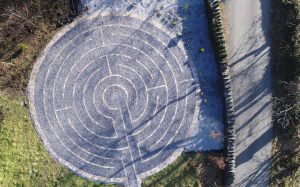 Here at Plas Penaeldroch Manor we have installed a labyrinth in our lower garden. All are welcome to walk the labyrinth, with the sound of the Lledr river tumbling under Pont-y-Pant bridge as your soundtrack.
Labyrinths have been used for many hundreds of years as an aid to walking meditation. You enter Plas Penaeldroch Manor's Labyrinth from the sole entrance point and follow the single curved path to the centre.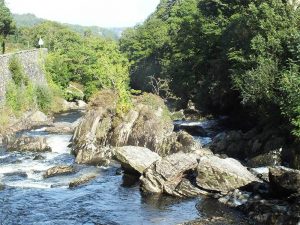 This path may be considered an allegory for life: as you travel, you will closely approach your 'destination' – the centre – and then move further away again; later you may find you are surprised when you finally reach your goal.
Visitors are welcome to enjoy the tranquil, almost meditative peace that can be found walking this traditional path.
Afterwards, enjoy refreshments in our fully licensed Café/Restaurant, where Welsh supplied, home cooked food and cakes are served daily.
Scroll down for                          'A Journey into Clarity'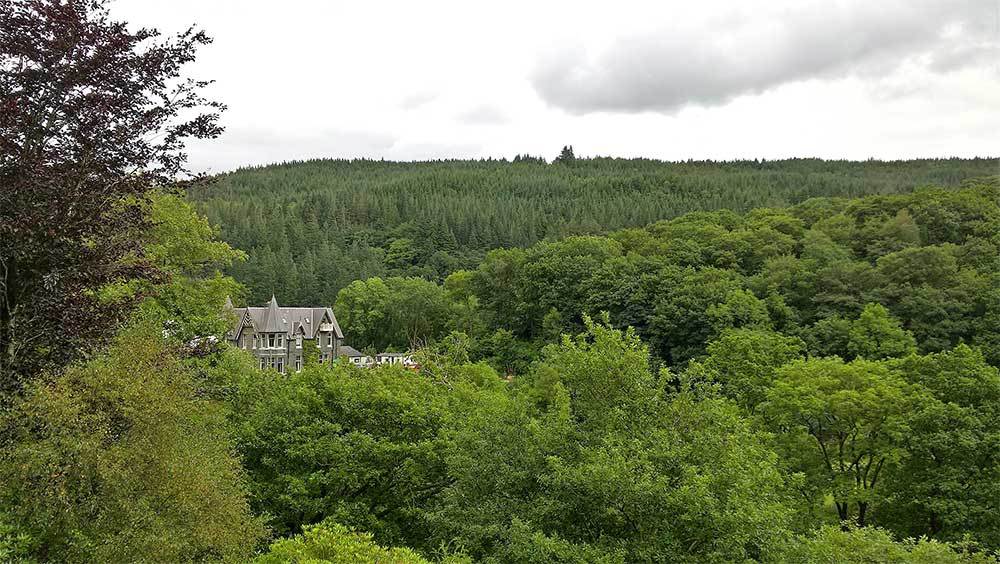 If you are not familiar with labyrinth walking, you may find the following useful:
A Journey into Clarity
A Place to Start– pause for a moment to set your intention


Prepare to be open on this journey: the labyrinth may take you to places you don't expect. As you stand at the entrance, take a deep breath in. Exhale fully and naturally. Let your breath be a guide for your life in this moment. Chose to leave some feelings and needs at the entrance before you move on – ask yourself what distracts you from being present in this moment and listen carefully.

On the Journey Inward– find the pace your body wants to go.


Be aware of your body as you enter the labyrinth. Continue to breathe deeply, releasing each breath slowly, and become aware of any tensions in your body. Try to relax and just trust the path you are on, noting how this path compares with your life.

At the Centre of Life– stay in the centre as long as you like.


This is your life – what is it trying to tell you right now – are you listening? If you get distracted, don't feel guilty – it is OK, but breathe slowly and deeply until you come back to this moment. Notice the thoughts, feelings, images and questions shaping your journey at this moment. Give thanks for your gifts and receive them, now, without judgement or reservation.

On Your Way Back– consider the possibilities


When you feel ready, begin to follow the path out to the entrance. Pay attention to your body – don't rush, but find the pace your body wants to go. Gain strength with each step, considering how you could weave into your life any insights you have received in this time. Let this time be an opportunity to be encourages. As you exit the labyrinth, offer a 'thank you'; take a deep breath, and go into life!
This post is also available in: Welsh